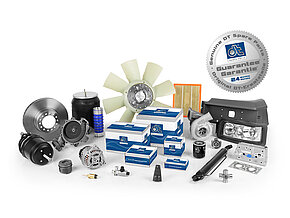 Brand quality without compromises
The DT Spare Parts brand stands for automotive parts and accessories of guaranteed quality, which keeps vehicles moving even under the toughest conditions (roads and environmental). The high level of reliability and safety of the products is confirmed by a 24-month brand guarantee.
The brand guarantee is applicable to the whole supply chain and begins on the day on which the last purchaser (= workshop customer) verifiably acquires the product. In order to guarantee the brand quality for DT Spare Parts, the Diesel Technic Quality System (DTQS) was developed. The system ensures a consistently high level of quality through continuous product optimisation.