One brand for all applications
The DT Spare Parts brand covers around 40 000 automotive parts and accessories together with future-oriented service solutions and a 24-month guarantee.
The constant growing product range includes automotive parts and accessories for:
Trucks: suitable for DAF, Iveco, MAN, Mercedes-Benz, Renault Trucks, Scania, Volvo ...
Trailer: suitable for SAF, BPW, ROR, VALX, Jost, Schmitz Cargobull, Krone ...
Buses (city and line buses, coaches): suitable for Iveco, MAN, Mercedes-Benz, Scania, Volvo, Neoplan, Isuzu ...
Transporter (LCV up to 7,5 t): suitable for Citroën, Fiat, Ford, Iveco, MAN, Mercedes-Benz, Opel ...
Cars: suitable for Alfa Romeo ... Volvo
Agricultural vehicles: suitable for Case IH, Claas, Deutz-Fahr, Fendt, John Deere, Massey Ferguson, Steyr ...
Construction vehicles: suitable for Caterpillar, Faun, Hitachi, Kubota, Liebherr, Terex, Volvo ...
Marine and industrial applications: suitable for Cummins, Deutz, Liebherr, MAN, Mercedes-Benz, Scania, Volvo ...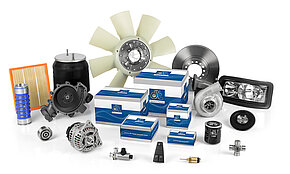 Continuous development of the range
The product range of the DT Spare Parts brand is being continually further developed and is one of the most comprehensive offers in the automotive industry.
If a new vehicle model is announced, the product management puts together a DT Spare Parts replacement parts programme specific to the vehicle and looks after the permanent development of the range.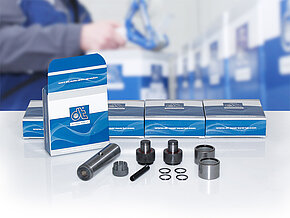 In order to be able to always fulfil customers' requirements, the specialists also compile practice-oriented repair kits, the "Special Repair Kits". These "Special Repair Kits" contain all the parts required for a repair under a part set number.
This spares the time-consuming searching and ordering of individual parts.
The Partner Portal is available for fast product search, decoding and parts identification. On the item detail pages, you will find information on item availability from regional warehouses, vehicle applications, product information, accessories and assembly instructions and videos for download.
All products from DT Spare Parts can also be found in TecDoc, Inforicambi, Info Truck, Precisio Truck, Atelio Truck and other electronic spare parts catalogues.
There are over 30 application-related product catalogues available to you for the familiar overview of the product range, both immediately in digital format or free of charge as a printed catalogue. The processing of spare parts orders occurs via authorised distribution partners in 150 countries. We will gladly put you in touch with a distribution partner in your area.